Store Manager Software
---
The Store Manager is the new generation of software for streamlined and secure handling of cash. Store Manager is a scalable software that is easy to use. Store Manager speeds up daily routines without compromising security. Activities and events are logged to offer full control of cash movement in the store. With Store Manager, you can handle CashGuard systems from all computers in the network. Several users can simultaneously access the software. Since the application is web-based, a thin client PC can be used.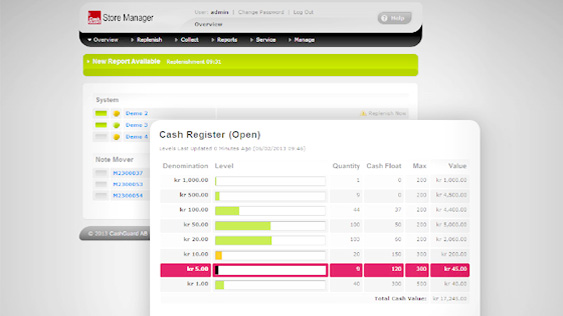 Increased Usability
A great deal of focus is placed on usability and productivity in the latest edition of Store Manager. The system is role-based and uses access control to manage permissions. Store managers, operation managers, check-out managers and other employees access Store Manager with a web browser. There they get an immediate overview of which cash points are open, how much cash there is in each cash point, daily cash flow data, and cash levels for each individual cash point.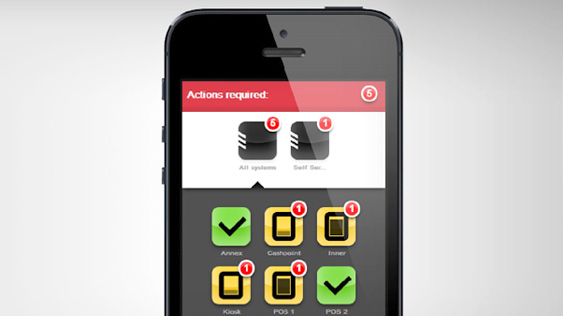 Mobile Interface
Store Manager is available from your mobile or tablet. This enables you to interact with your store's cash points in a real-time mobile environment and improve your business as it happens. Store Manager Mobile ensures that vital information about cash levels and cash points becomes available to you when and where it is needed the most – in your store and amongst your customers.
Business Intelligence
With Store Manager, retail stores can handle many checkouts simultaneously. This will give a cash manager or store manager a complete picture of the operation's cash flow situation and the opportunity to actively control the cash flow according to specific needs.
License Options
Store Manager is available in three different editions to accommodate various sizes of operations and business focuses.